After a 42 day countdown we were finally off! We left a cold rainy Irish morning behind us to arrive in a ridiculously hot 30 degree Charles De Gaulle at 10am on Tuesday morning. We had planned already to get the 11am TGV , and it was surprisingly straight forward. After collecting our bag and buying our TGV tickets it took us only 9 minutes to arrive in Disney. And its the same price as the shuttle bus! We practically ran to Cheyenne to check in and drop off our bags and we were standing in Main St USA by 11.40! Fantastic! It was so amazing to be back , and the first thing I noticed was how brilliant the castle looks after its paint job! It was simply sparkling in the sunshine. The next thing I noticed was how busy the park was , I really was expecting it to be quiet but apparently french teachers were on strike on Tuesday so there were lots of kids and day-trippers about. But we didn't dwell on it and got on with our first ride..... Space Mountain. No better way to announce you have arrived! That was a walk - on and stayed that way for the whole trip ( good because its one of my faves) but the queue for Buzz was going right around the corner beside Cafe Hyperion , , , there were buggies piled up everywhere! We decided to skip it and landed over to Fantasyland to do Les Pays de Comptes des fees , which had a 25 min queue but I hadnt done it in years beacause its always closed in January . It was lovely , but the heat made it a little uncomfortable to be out under the sun for any length of time. We skipped Casey Jnr too because the queue was 120(!!!) minutes and decided we would do it the next day instead . After a skip around the rest of the rides we stopped for a Croque Monsieur in the Market House Deli and headed over to the Studios for TOT , Crush and RC Racer.The queue for Crush was 45 mins and seemed to be constant for our whole trip so we only did it twice . . Such a pity because its a fantastic ride , but Id rather go off and do other things than wait in a queue for the best part of an hour.What became apparent during the week was that it was the " Family Friendly" rides that had the longest queues , whereas we practically walked onto TOT , RC Racer and Space Mountain. By 6pm we were exhausted , so we headed straight to Annettes Diner for dinner . Hmmm . . . was not too happy with it and I usually love it. We both had the Annettes Classic Menu which is basically a burger , and then a brownie ( 17.50 each). Excellent Value but the service was so slow and the food was just thrown down in front of us. But we were so tired we just headed back to Cheyenne, collected our bags and got some Disney sleep for the next day ahead.. zzzzzz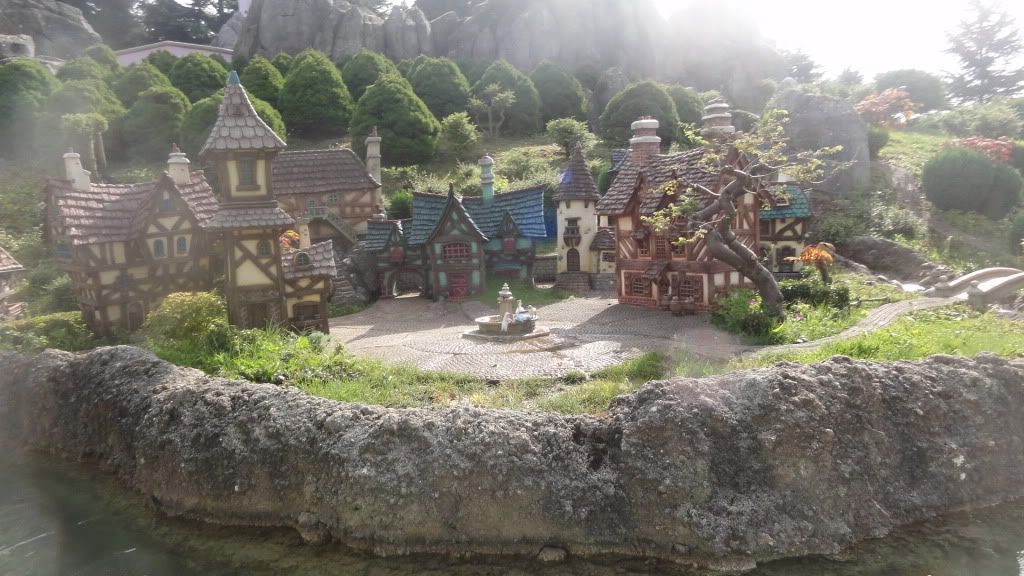 Day 2 - Wednesday September 28th
Breakfast at 7am and then straight off for a few spins on Buzz and Space Mtn. And Peter Pan , Tea cups and Carousel while the queues were still bearable. I noticed quite a few people in suits going around the place... very interesting. And alot of american accents around . . and they were filming in TOT and just outside Adventureland. Anyone know whats going on? Lunch today was Hakuna Matata and it was yummy . . nice to have a choice of something other than burgers and chips. And the lion king music gives it a great atmosphere. The price was fine too , I think it was 9.99 for Menu1 which was chicken strips , Hakuna fries and a drink. Highlights of the day included Captain EO . . . not really. Its not exactly exciting, I think Honey I Shrunk the Audience was better but it gave us 20 mins in air conditioning so we decided to give it a go. Im sure at the time it first came out it was brilliant but now that we have seen so much more of 3D in films it just didnt feel like anything special. The next was Art of Disney Animation. I had never done it before and the 2nd part , where they show the clips of movies was so lovely I nearly started to cry! Its a beautiful attraction and the after show room is so interesting , its wonderful to see all the original concept art for the movies. And then the Disney and Pixar characters come out for a meet `n greet at about 11am ish around Rock n Roller so we got to meet loads of them. Saw Remy for the first time , and the Incredibles. Its good to see something like this in the studios to brighten the place up a bit and give it more Disney magic.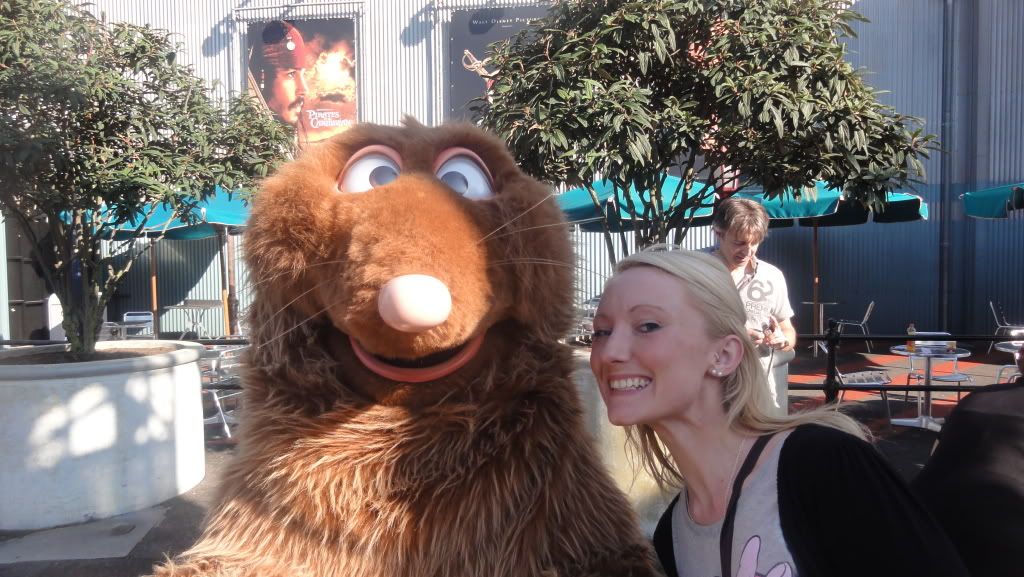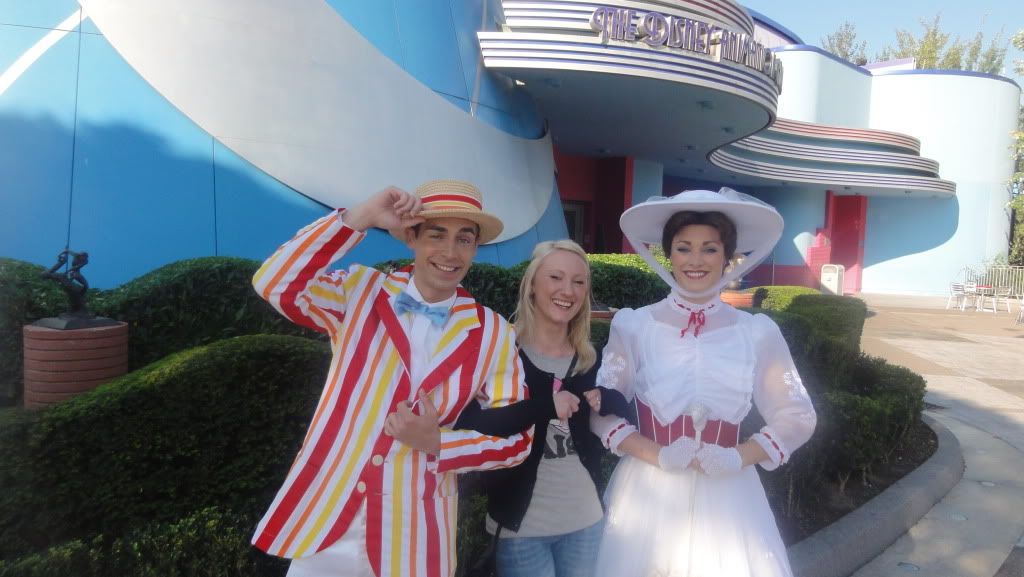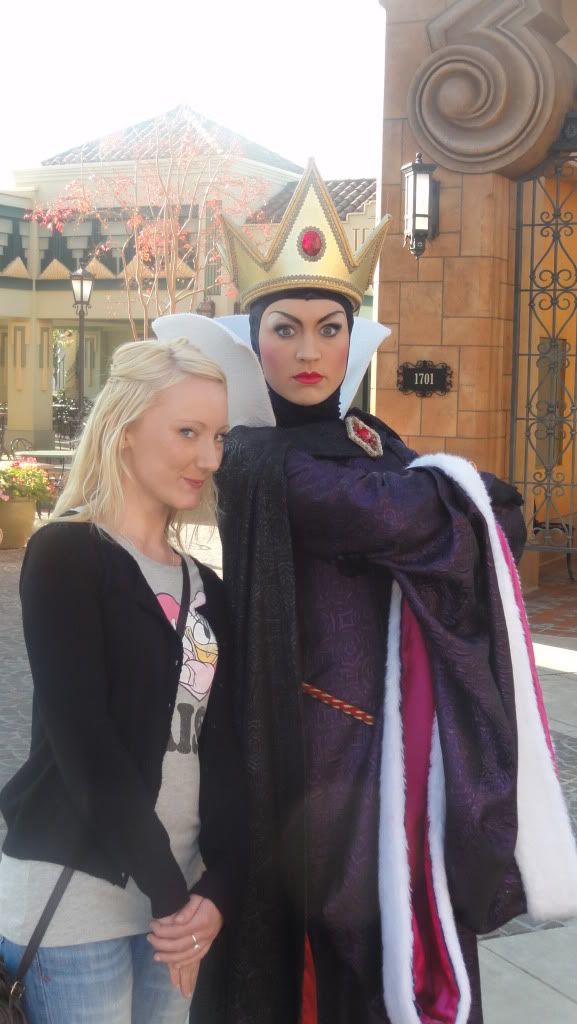 The best characters were Cruella de Vill ( she was brilliant posing and kept saying " Fabulous Dah-ling!") and the Evil Queen. That woman is amazing! Her facial expressions are genuinely creepy! And Donald loved my " I love Daisy" t - shirt and kept pointing at it giggling. Spotted Mulan for the 1st time too but we didnt get a picture because she was being hurried away. Sob! Also did the Princess meet and greet in FantasyLand , we queued up at half 9 to be there for when the princess came out at 10am. Really wanted it to be Aurora but it was Snow White .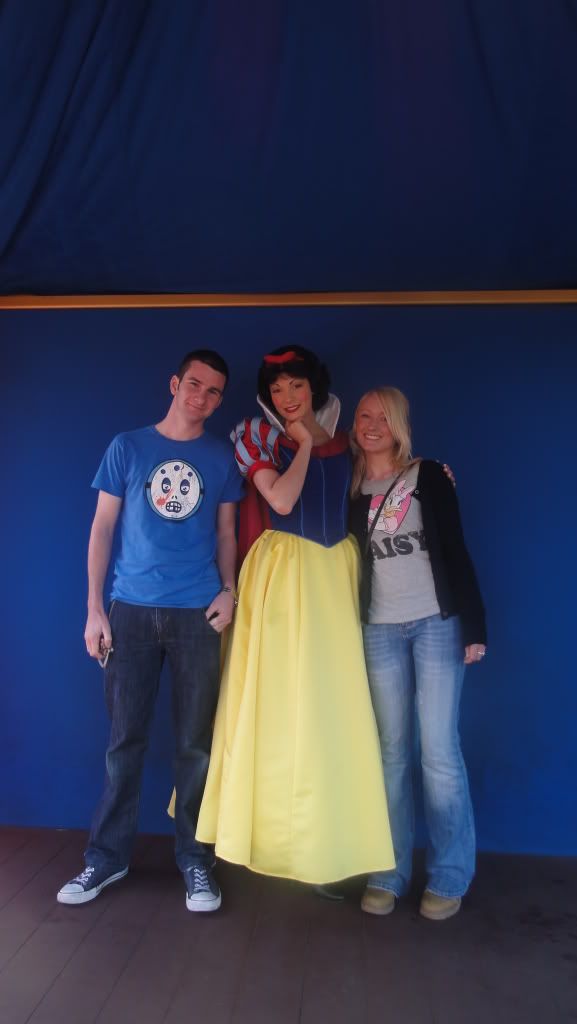 So myself and himself got our picture taken with her and then who should we meet walking down the path all on her own but Cinderella! So we got a photie with her too but unfortunately it didnt come out because the sun was right behind us. Dinner that night was at Cafe Mickey. We had the set menu each for 34.50 and I really enjoyed it. I thought the service was great , better than it has been on previous occassions and the food is really good too. All the usual characters were there , Mickey Minnie Chip Dale Goofy and Gepetto. . ( They do like to use Gepetto alot dont they?) Only thing that bothered me was the family who came in and were sat next to us. They had 2 young kids with them and before they had even ordered the Dad had sent the little boy off chasing Mickey ,clearly not realising the whole system that the character meals have. They will come to your table!! there is nothing worse than when its your turn and you have loads of kids pulling off the character when you are trying to get a picture! However I do think that maybe this needs to be made more clear somehow to guests when they come in. . With full and happy tummies we trotted around the shops , then went to the Red Garter Saloon for a much sought after San Miguel and off to bed!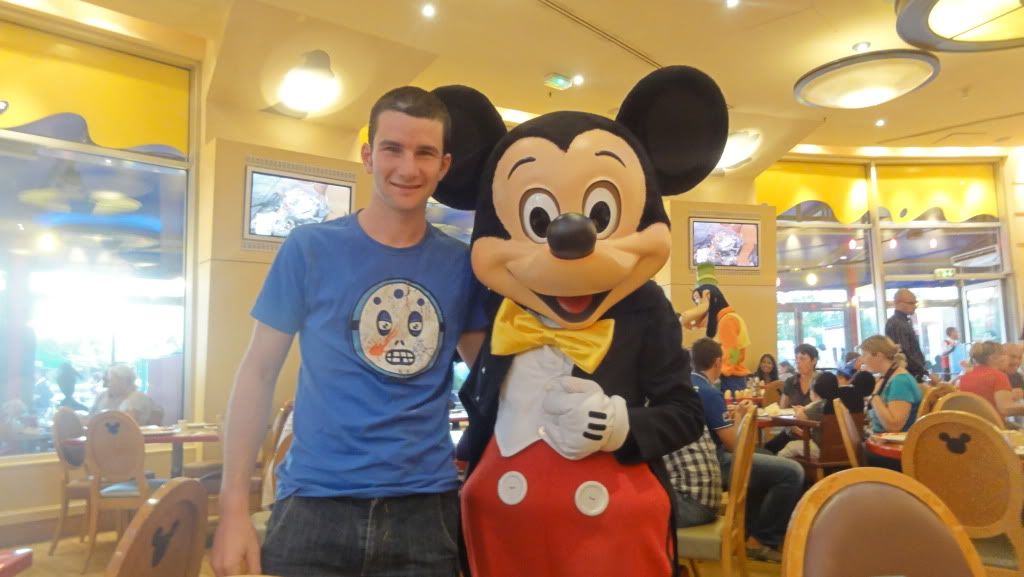 Day 3 Thursday September 29
Started with the usual magic hour rides and started queuing for Casey Jnr as soon as 10am hit . We were the first ride to go so maybe its just me but it seemed a little slow. Today was a bit quieter thankfully and also we had a bit of a breeze which was nice. Everytime you buy drinks or a meal they give you a little voucher where you can get a free drink at certain restaurants between 3pm and 5.30pm which was a real bonus . We would get a bottle of Vitttel each and then just keep refilling it at the water fountains. Saves you a fortune really because a bottle of coke costs 2.60 in the park..Eeek!We did the usual rides in the park before heading to the studios, saw a bit of Stars and Cars and the back to the park for lunch at the Cowboy Cookout with the characters. This was definitely the highlight of my trip! It was 26 euro each for the meal which included : salad/chilli , texan platter ( ribs , chicken , sausage , wedges) drink , and dessert ( we had pecan tarts) It was really yummy but the characters were just incredible. The best of the whole trip. The place was surprisingly quiet so we really had them all to ourselves and the interaction was brilliant. Mickey and goofy were riding chairs around the floor as if they were horses and Woody and Pluto were dancing together across the room. After we had met all the characters many times and finished our food I went to the bathroom before we left . And when I came back out what did I see? Only Minnie and Mickey sitting at our table beside my boyfriend! I nearly died with excitement!!!! I had just been saying to him earlier how amazing it would be to get a photo with the 2 of them together but I didnt see how that would happen! And here they were! He said that when I went to the bathroom Minnie came over and gestured as to where I was and then sat down and pretended to drink from my coke. Then she gave Joey ( the boyfriend) a kiss so Mickey came over and started wagging a finger at joey and sat down too! It was absolutely amazing, they made the trip and Il treasure the photos forever!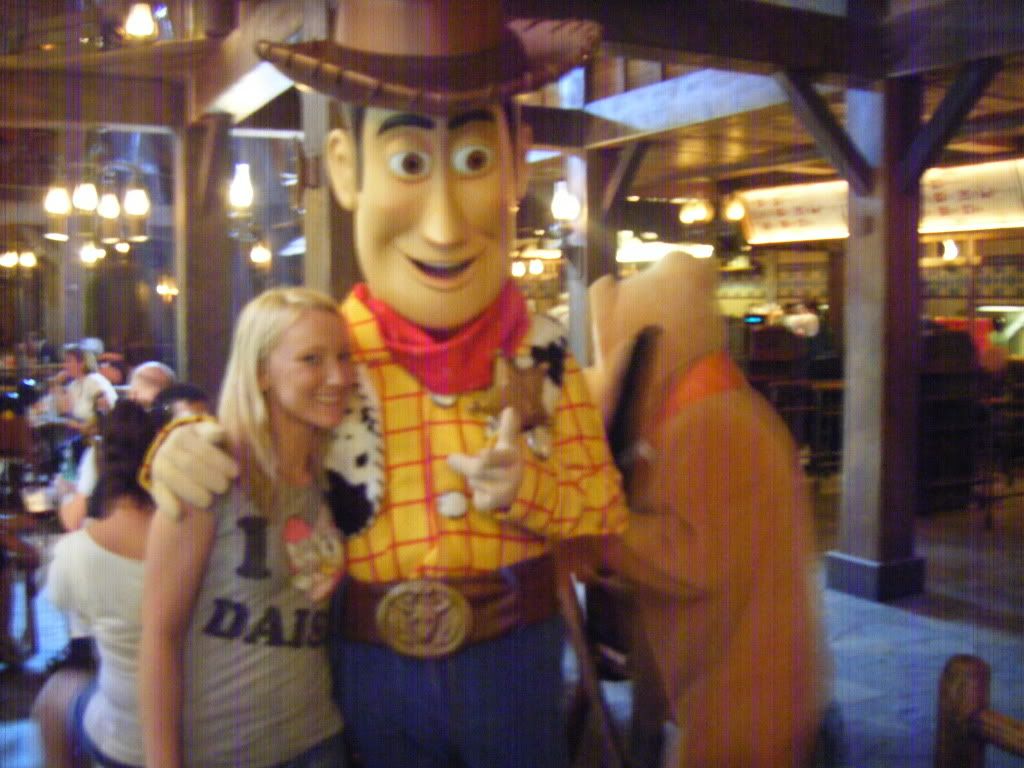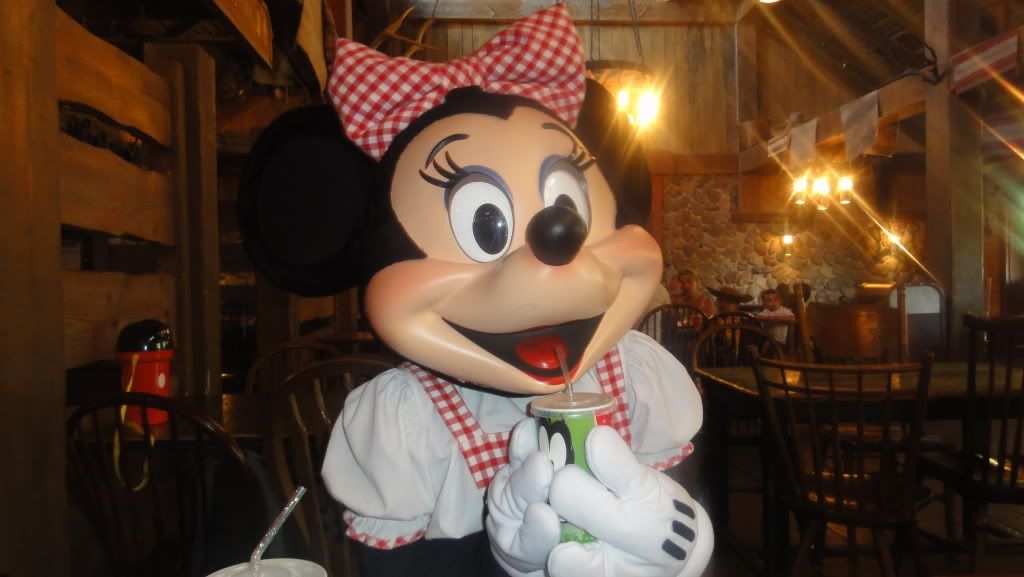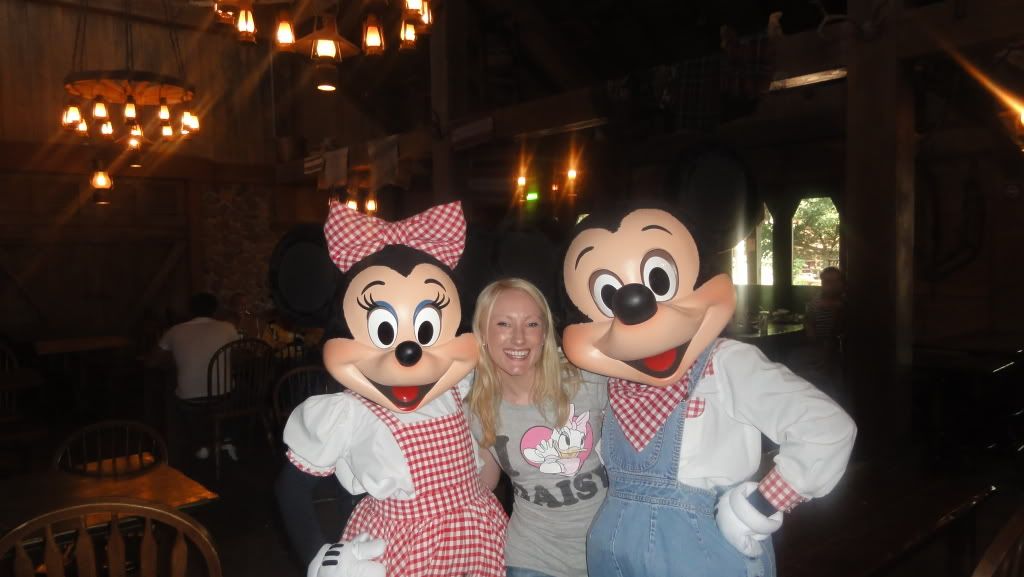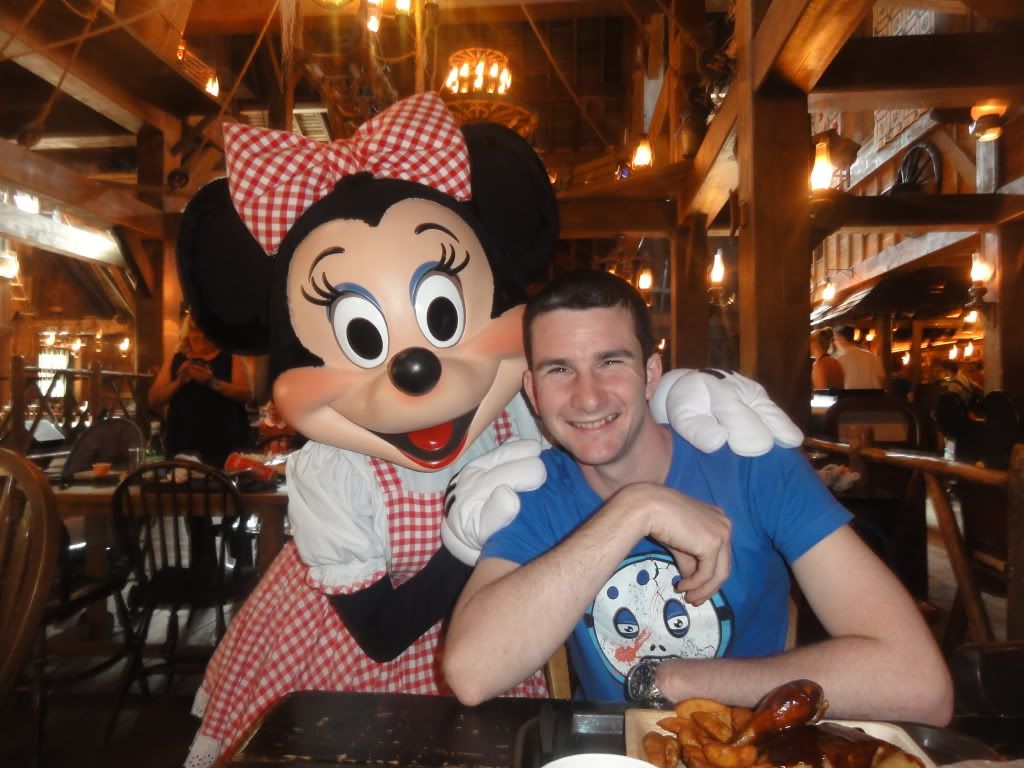 After that we went to see Following the Leader with Peter Pan which was great ,really good fun and its great to see the audience interaction and face characters for Mr Smee and Hook. I reccomend everyone to see it. Also that day we saw the parade which had a few new additions since last year ( the princesses come down from the floats and dance with selected kids from the crowd. It was lovely , I cant get enough of " Just like we dreamed it" And we got a really good spot , opposite Pizzeria Bella Notte , on a bench with a lovely parasol over us!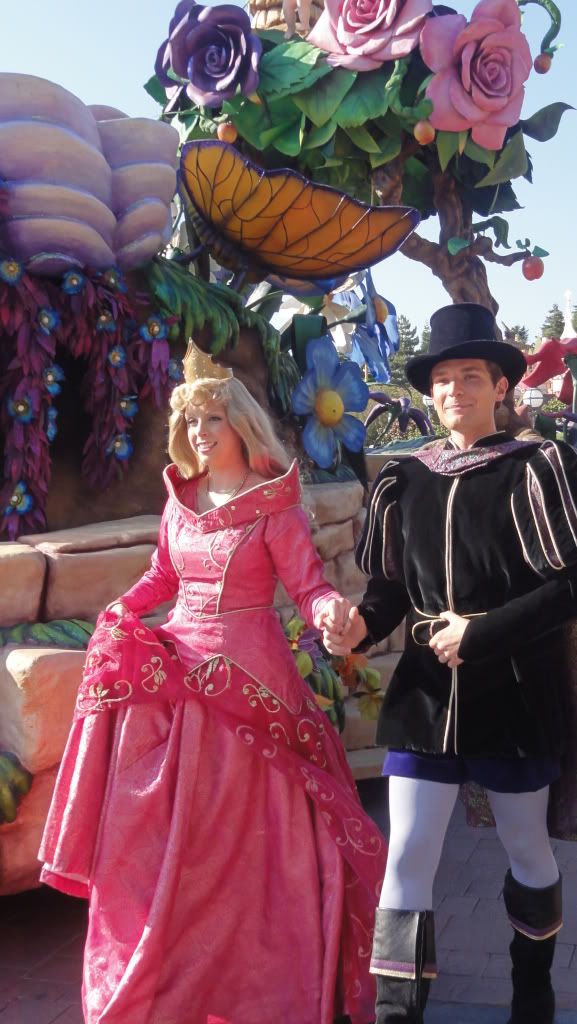 We got a few more spins on all the rides , and that night we ate in the Rainforest Cafe as Joey had never been there before. Im not a big fan I have to say , I think the food is completely over-priced for what it is but they have an offer at the moment where their 2 course meal is down from 21.00 to 19.00 so we gave it a go. We had the roast chicken and the pasta which were ok but nothing special and then we both had raspberry meringue for dessert. A few more looks about the shops and a drink in the bar and another day was down. Only 1 and a half days left!
Im back to work in the morning so I need to leave the report for now but Il finish it tomorrow evening! I hope Im not too boring!